Tel:
717-272-1234 |
Fax:
717-270-2875
Our Services
•
911 Response
•
Advanced Life Support
•
Basic Life Support
•
Dispatching and Logistics
•
Paratransit & Wheelchair
•
Special Event Coverage
•
CPR & First Aid Training
•
Community Paramedicine
•
Non-Emergent Transport
We employ over 150 people and operate 24
hours per day. Our highly trained staff use
state-of-the-art equipment to bring
exceptional pre-hospital care to your doorstep.
Employment Opportunities
Qualifications and openings for paramedics,
emergency medical technicians, attendants,
telecommunicators, and administration vary.
We encourage anyone interested in joining us
to fill out our short online application. Let us
figure out how your talents, experience, and
abilities could become a great fit for our
organization.


First Aid and Safety Patrol Emergency Medical Services Agency 254 S.11th Street Lebanon, PA 17042
Privacy Notice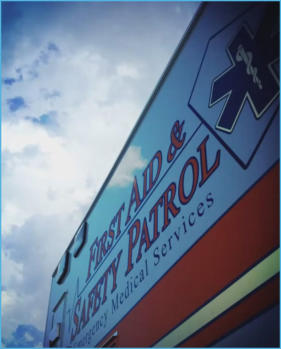 Want to become an EMT?
Through a collaborative approach several
agencies throughout Central Pennsylvania have
partnered together to provide a quality
education at an affordable price.
Membership Subscription
Even when you have insurance it
does not usually cover 100% of the
cost of transportation to a hospital
following an emergency. After any
co-payments or deductibles are met
insurance pays a portion of that fee.
The amount that is left can be
substantial and the patient is
personally responsible to pay that
balance.A membership subscription
is meant to limit your out-of-pocket
expenses. The remaining portion of
your bill, after any co-payments or
deductibles are paid and insurance
pays its portion, is covered by your
First Aid and Safety Patrol
subscription. You pay nothing out-of-
pocket. You will also be helping to
support your local emergeny medical
services.
CPR & First Aid Training
We provide cost effective CPR & First Aid
training to both individuals and organizations.
Our Total Requests for Service
Child Car Seat Installation
A free service to our community
Click on the car seat icon above to schedule
your car seat installation today. All our car
seat installations are performed by our
certified Child Passenger Safety Technicians
Our History
First Aid and Safety Patrol was chartered on
March 28, 1938 by the dedicated volunteers of
the Lebanon City Fire Department to provide
care to city firefighters. A long history of
continual growth, supplemented by the
consolidation of several area ambulance
services, has resulted in today's comprehensive
emergency medical services agency.